Before branching out to our own In-House programmes, Apple Pie Language first started out as an enrichment programmes provider to kindergartens and childcare centres in Singapore, bringing our well-received programmes directly to early childhood institutions. With over 18 years of experience, our programmes such as Chinese Theatre (创意演艺班), Chinese Enrichment Programme (华文强化班), Primary 1 Chinese Prep Class (小一华文预备班) and English Speech & Drama can be found in many kindergartens and childcare centres island-wide, reaching out to approximately 2,000 students each year.
Apple Pie Language also conducts holiday camp programmes within schools during the term break, giving students a fun and enriching way to spend their holidays and pique their interest in the Chinese Language through various activities, games, craft work and role-playing.
Our Programmes (B2B)
Chinese Enrichment Programmes (华文强化班)
– Seedlings: 3 yrs old
– Green Apple: 4 yrs old
– Red Apple: 5 yrs old
– Gold Apple Prep Class: 6 yrs old
Chinese Theatre Programme (创意演艺班)
– For 3-6 yrs old
English Speech and Drama
– For 3-6 yrs old
Drama for the Young (早教创意演艺班)
– For 3-4 yrs old
Fun-filled Holiday Camp (欢乐假期营)
– For 3-6 yrs old
Fun with Phonics
– 4-6 yrs old
Online Programmes (在线课程)
– E-Drama (网学乐): for 4-6 yrs old
– Online P1 Chinese Prep Class (线上小一华文预备班): for K2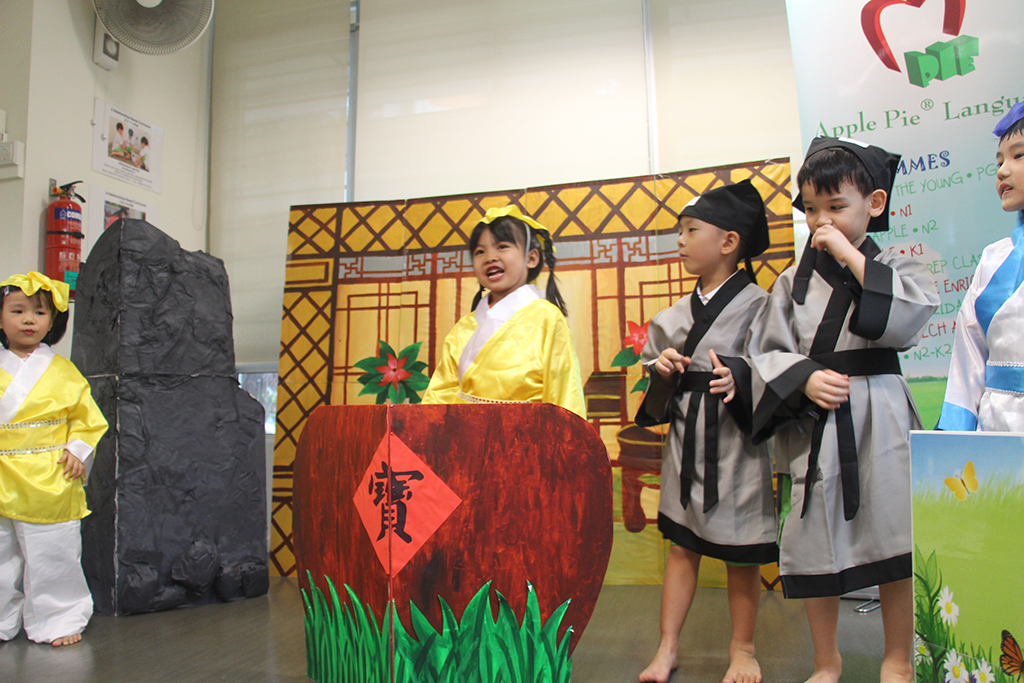 If you are interested to collaborate with us please fill up the enquiry form on the right and our team will be in touch with you soon!
Send us a message